BEAUTME
LED makeup mirror with UV Lamp Nail Dryer
is now in pre-sale at BEAUTME store, the official retail price is $ 159.99, the pre-sale price is only $ 99.99, free shipping, 96% of pre-sales completed within one week.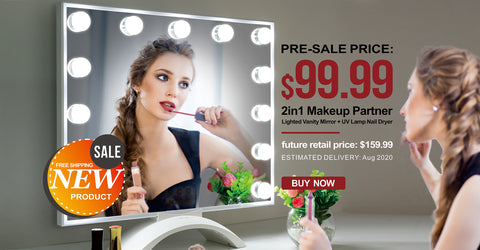 BEAUTME LED makeup mirror with UV Lamp Nail Dryer products have a minimalist, pure white design style. The UV Lamp Nail Dryer shell is matte matte texture ABS material, and the frame is aviation aluminum baked car paint; using high color reduction light guide technology and Ordinary make-up mirror lamp bead ring design with different ring-shaped lighting and shadowless design, high color rendering light bulbs are lit and driven at both ends, the light evenly illuminates the entire face through the light guide dots, restores the true color of eye makeup and lip makeup Too heavy when applying makeup to make the base makeup more transparent and natural. The patented ring-shaped light guide plate around it ensures brighter and more uniform light. The color rendering index is up to Ra92, that is, it has 92% daylight similarity, and high-fidelity restores facial colors. Color rendering effect.
In terms of brightness adjustment, BEAUTME LED makeup mirror with UV Lamp Nail Dryer design stepless brightness adjustment. 3200 ~ 6000lux, suitable for daily skin care in the evening, daily make-up in the morning and fine skin care and details in the daytime. Long press can adjust the light and dark to meet the needs of different makeup and skin care. The natural daylight-like light source is soft and does not hurt the eyes, allowing users to check the makeup status under natural light at home before going out.
In terms of mirror surface, it adopts high-definition silver-plated mirror surface, which can restore the texture and high-definition without deformation, ensure that the facial details such as pores and red blood are observed more carefully and clearly, and it is especially optimized for people's color rendering power, red color rendering power and brightness indicators , Effectively restore true and delicate makeup.