Do you have these home office issues?
I regularly use laptop for home office in my couch.
I will keep bending the head down to look at the device, straining the neck and creating an unhealthy bend to the back, if I put my laptop on thighs or coffee table.
Inconvenient for typing significantly lower my productivity.
I found this C-table delivering the perfect solution!
What advantages dose the "C-shape" design have?
About functions
C-shaped form floats above my legs. When I put my laptop on this table,I feel my legs、shoulders、neck and back free.
Place it next to the sofa! I suddenly have a stylish and comfortable home office.
The C-shaped design makes the table supper easy close to the sofa.
I also use it to put my iPad 、books、coffee、sacks when I lean back on the sofa enjoying leisure.
It is very sturdy and can be used as nightstand for desk lamp.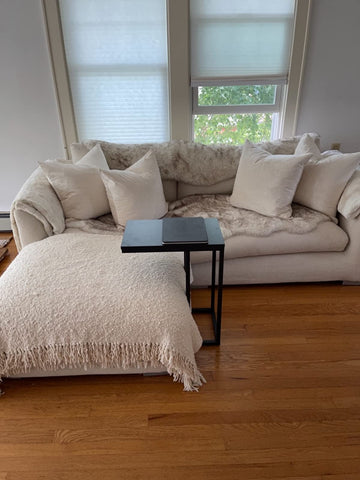 About looks
It is modern, simple, and classy.
The straight, simple lines of the metal give the furniture a graphic expression and put an attractive frame around all your personal things.
If you want to improve your home office and daily life, don't miss this side table.